We are excited to officially announce the release of 2 new products, both joining MTC Solutions' connectors line up: the MTS-i 30 and the MTS-i 40 !! They will join our Mass Timber Tension Strap solutions series along with the already popular MTS15.
All our tension straps are high-capacity connectors, specifically designed & tested for applications such as diaphragm strap, wall-to-wall connections, and openings reinforcement in Mass Timber buildings. They are engineered with high-strength steel and include a powder-coated finish, which provides a layer of protection against corrosion, scratches/chipping and fading. This blog post will cover in detail the different MTC Tensions Strap models and their particularities.
Approximately 6-minute read.
The MTS15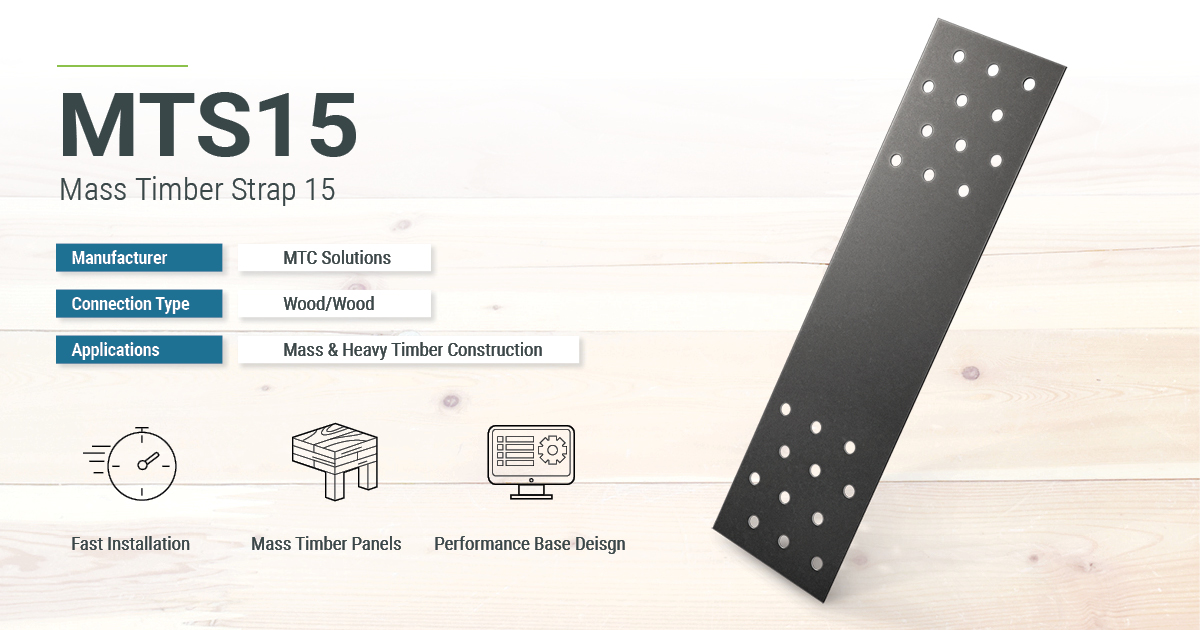 The MTS15 are performance-based connectors tested in the United States and simply fastened onto mass timber elements using a total of 24 self-tapping Kombi LT 1/2″ [12 mm] x 6-1/4" [160 mm]. They are easy to install and are specifically designed for high-performance steel-to-wood connections. The Kombi LT self-tapping screws are ICC-ESR code-approved in the United States. These screws can be rapidly installed with a hexagonal magnetic socket or with the proper AW 40 drive bit without the need of predrilling, accelerating on-site work.
The geometry of the MTS 15 allows it to be used in wall-to-wall and panel-to-panel applications with 5 ply's thick mass timber panels (E.g.: CLT [Cross Laminated Timber] panels).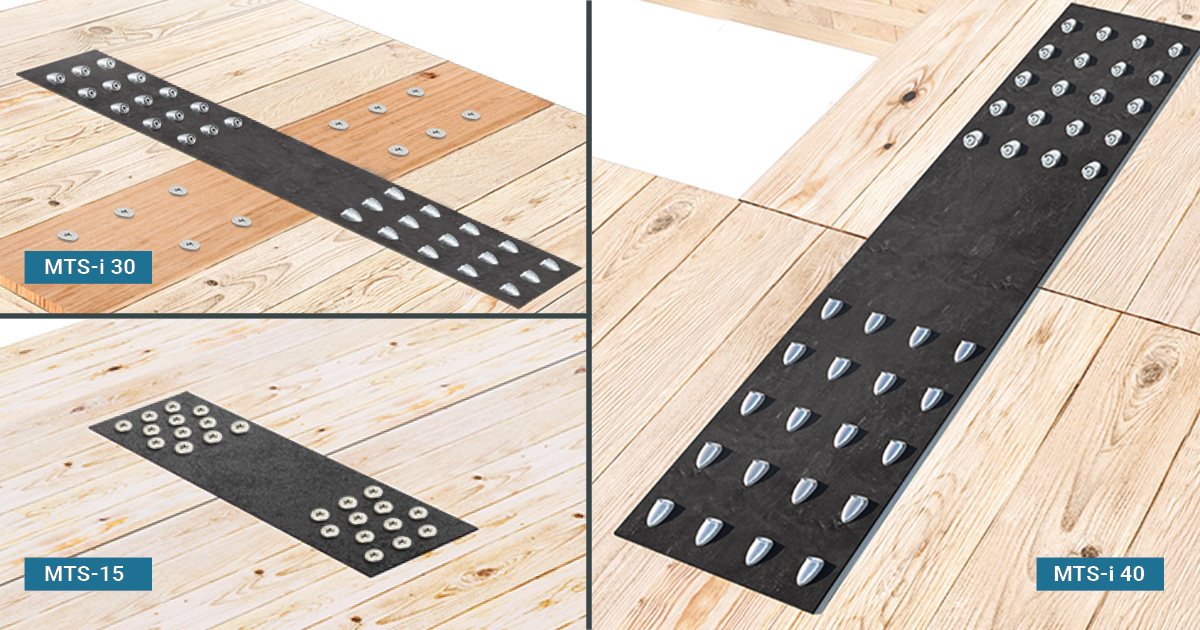 NEW PRODUCTS! The MTS-i 30 & MTS-i 40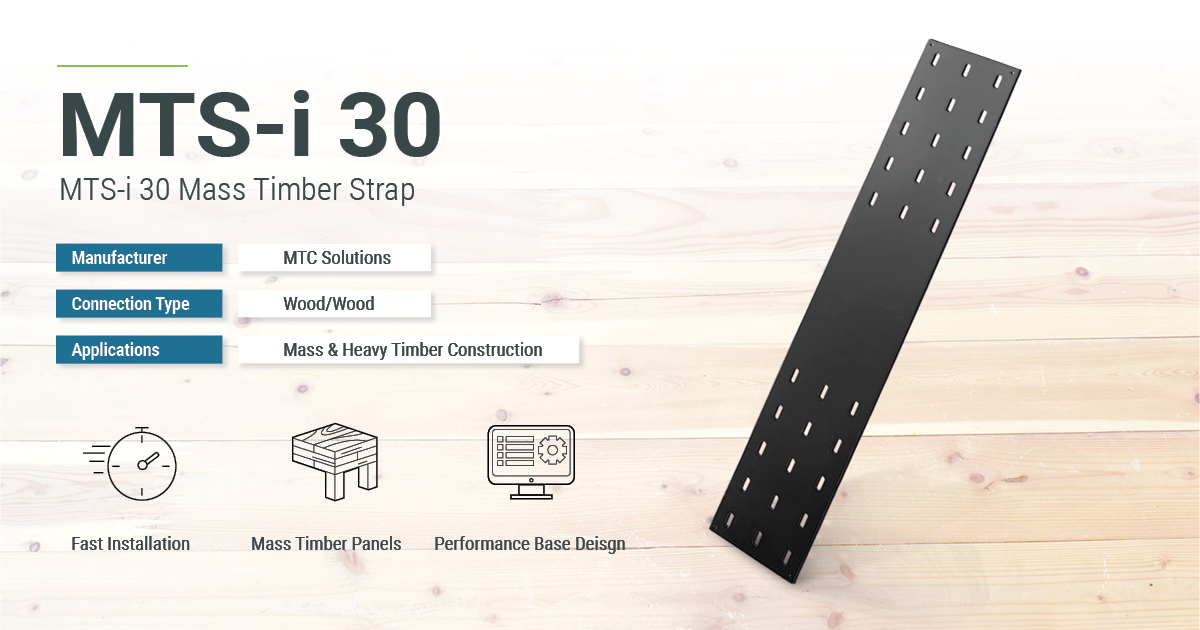 The MTS-i 30 and MTS-i 40 [Mass Timber Strap with inclined screws] are high-capacity connectors specifically designed for tension applications in Mass Timber construction. The MTS-i Mass Timber Strap series offers two solutions: the MTS-I 30 and the MTS-I 40. Both MTS-i are designed as capacity protected connections for mass timber structures and are easy to install with fully threaded ASSY VG CSK 5/16″ [8 mm] x 8-5/8″ [220 mm] self-tapping screws at a 45-degree angle in combination with 45-degree washers.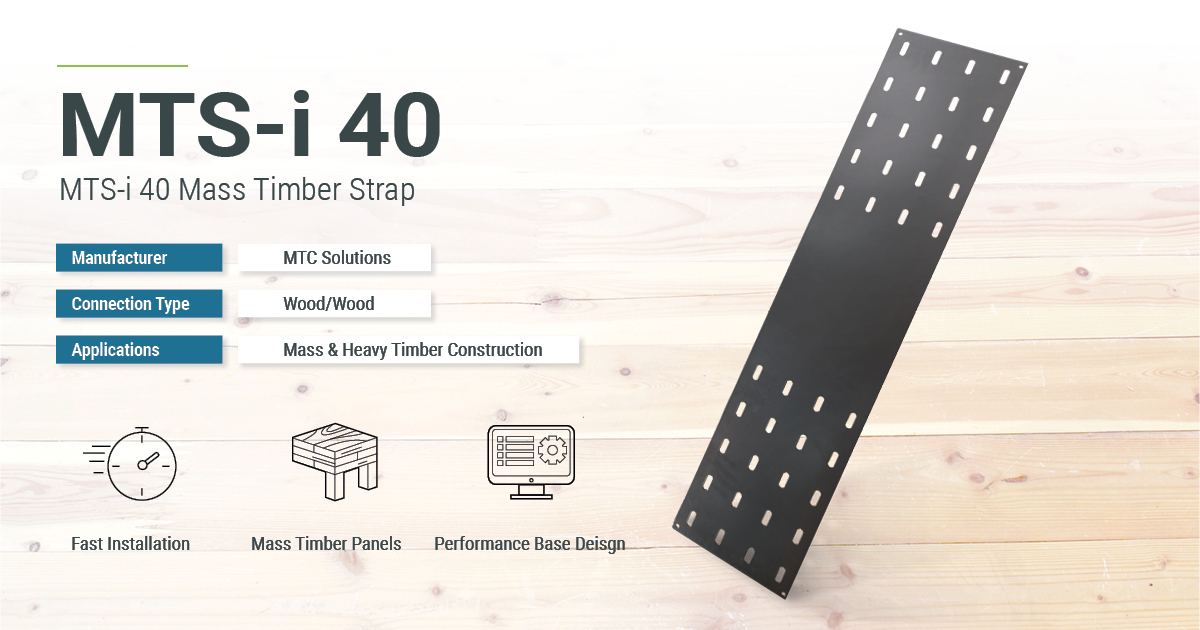 The ASSY VG CSK fasteners used with the MTS-i systems are ICC-ESR code-approved in the United States, and CCMC  approved in Canada. By using high-strength inclined screws, the MTS-i series offers higher stiffness and capacity than the MTS15 solutions for similar tension applications, making it a one-of-a-kind off-the-shelf connecting solution. The major difference between these 2 Tension Strap (other than the supported capacity) are the number of fasteners needed to install them. The MTS-i 30 is installed with a total of 30 screws per strap, where the wider MTS-i 40 needs 40 screws. Consequently, the geometry of these connectors slightly differs as well.
It is important to note that for the installation of the MTS-i tension straps, the washers must be placed in the correct orientation to allow the screw tips to point to the outside of the tension strap. Therefore, rows of fasteners must be installed from the innermost row to the outermost row of the straps.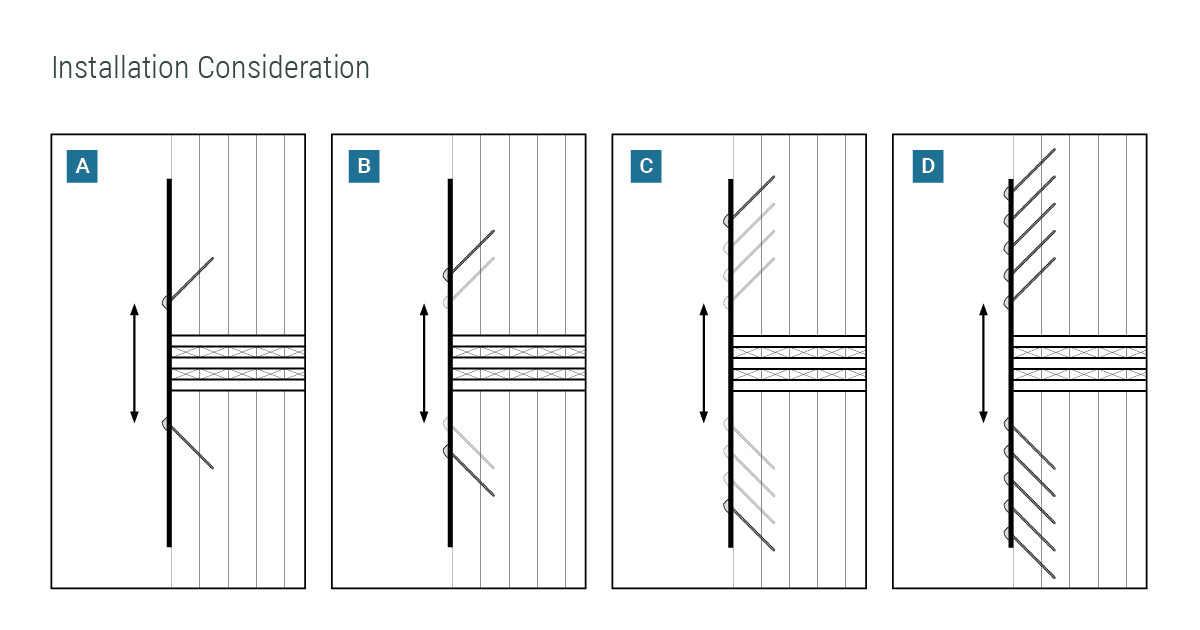 To learn more about these brand-new systems, such as detailed capacities, system behaviors, or installation instructions, download now our new Connector Design Guide !
For any questions, contact our Technical Support Team 😉.