We are pleased to add the Mass Timber Bracket Light [MTBL] to MTC Solutions' connectors line up! They are joining our package of Mass Timber Connectors, putting us one step closer to offer a complete Mass Timber Solutions package for connections.
Approximately 6-minute read.
The MTBL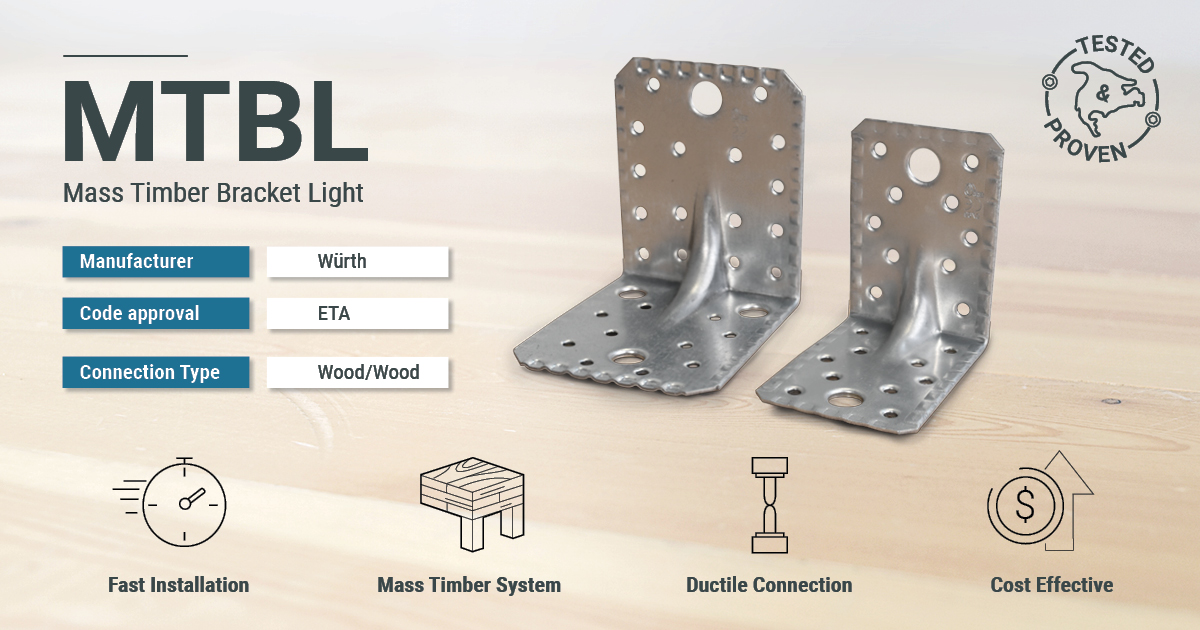 The MTBL series offers two solutions: the MTBL 90 and MTBL 105. They are ductile angle brackets specifically designed for applications in Mass Timber construction, used in various CLT connections such as floor to wall, wall to wall and wall to ceiling connections. These angle brackets are designated as light because they are engineered from 1/16" [1.5mm] galvanized steel with a reinforced perimeter which makes them lighter than thicker 1/8" [3mm] brackets from other brands, and therefore less expensive, withstanding similar loads.
Both brackets are installed on the wood material using ASSY Ecofast 3/16" x 2" [4.5 x 50 mm] self-tapping screws, drive-in using the AW 20 bit. The MTBL 90 uses a total of 20 fasteners while the wider MTBL 105 uses 26 of them.

Evolving in the new era of mass timber construction, where buildings are going higher, and where the number of connections is multiplied, pushes the demand for connection technology that are fast and easy to install. And that's exactly where the MTBL series shine as installing angle brackets using drills & self-tapping screws allows for considerable time saving on-site, compared to a more classic approach, using hammers and nails.
The MTBL Tests
The MTBL systems are extensively tested to allow for a performance-based design approach and offer capacity values for uplift, lateral, withdrawal and compression. Detailed capacities and system behaviour are available in the MTC Solutions Connector Design Guide which include results from monotonic and cyclic loading.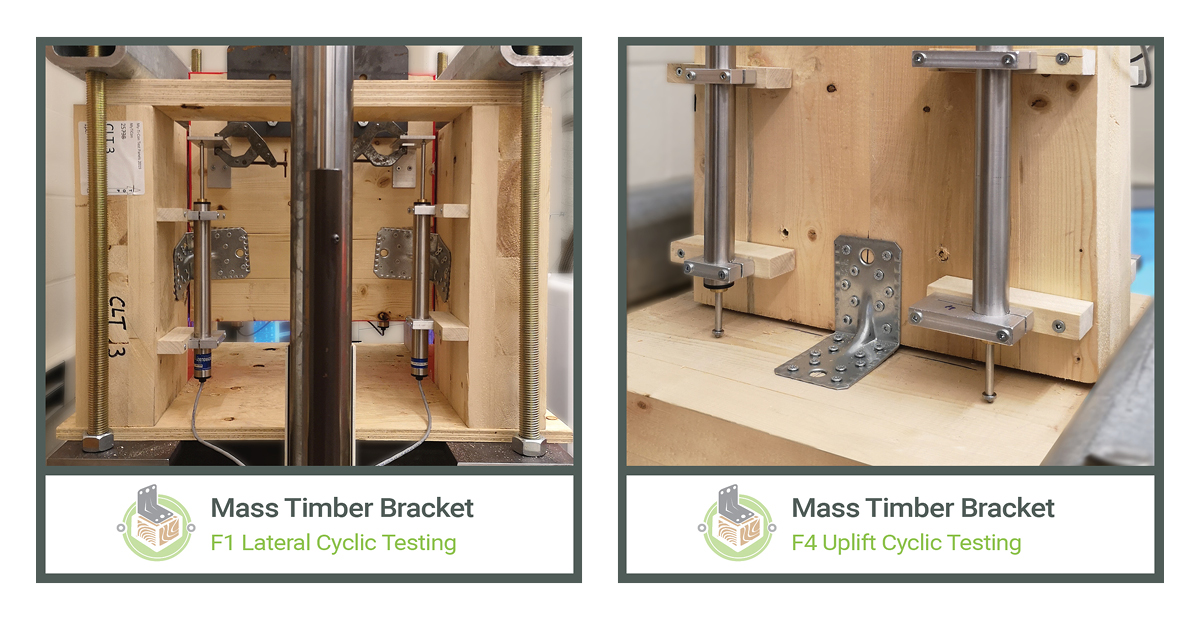 load-displacement graphs presented in this section show hysteresis loops recorded for an average result from a set of tests and their fitted envelope curves. Analysis has shown that the MTB angle bracket has an average ductility ratio of 3 or more in all loading directions following the Equivalent Energy Elastic-Plastic (EEEP) method. This is true for monotonic and cyclic tests. For more details on the ultimate resistance values at the 5th and 95th percentile, refer to Chapter 11 of the commentary of CSA O86:14. Currently, there is no standard for this type of design in the USA.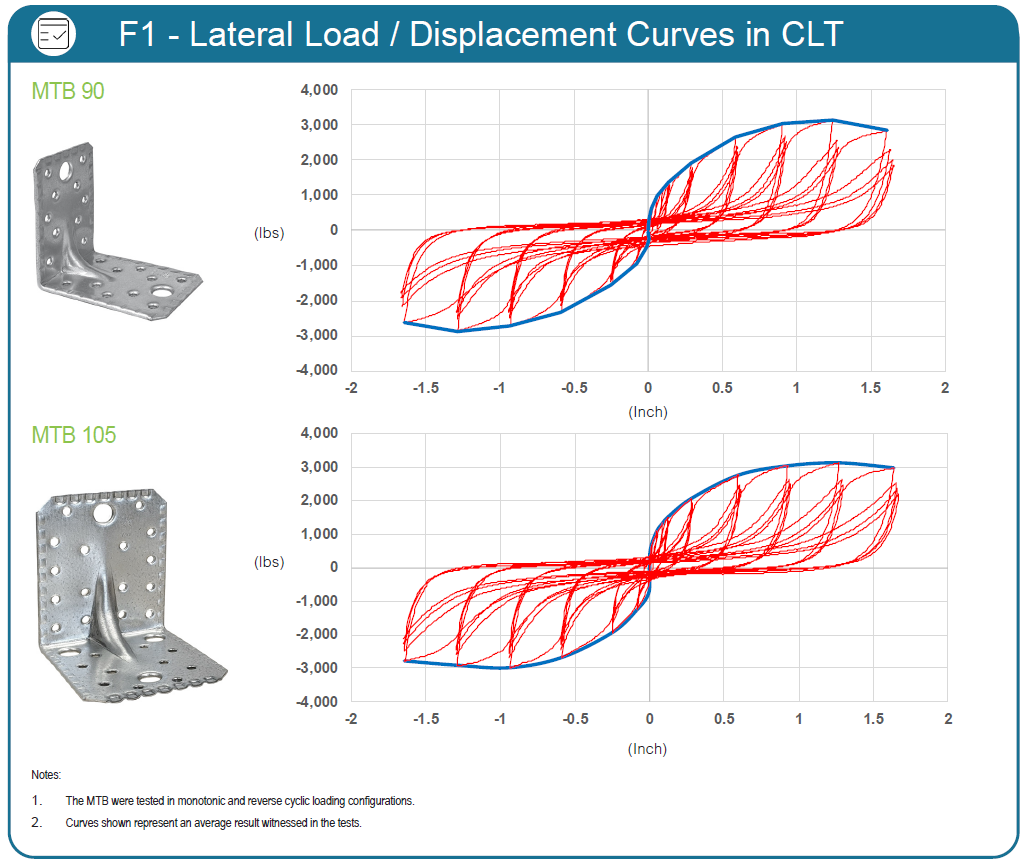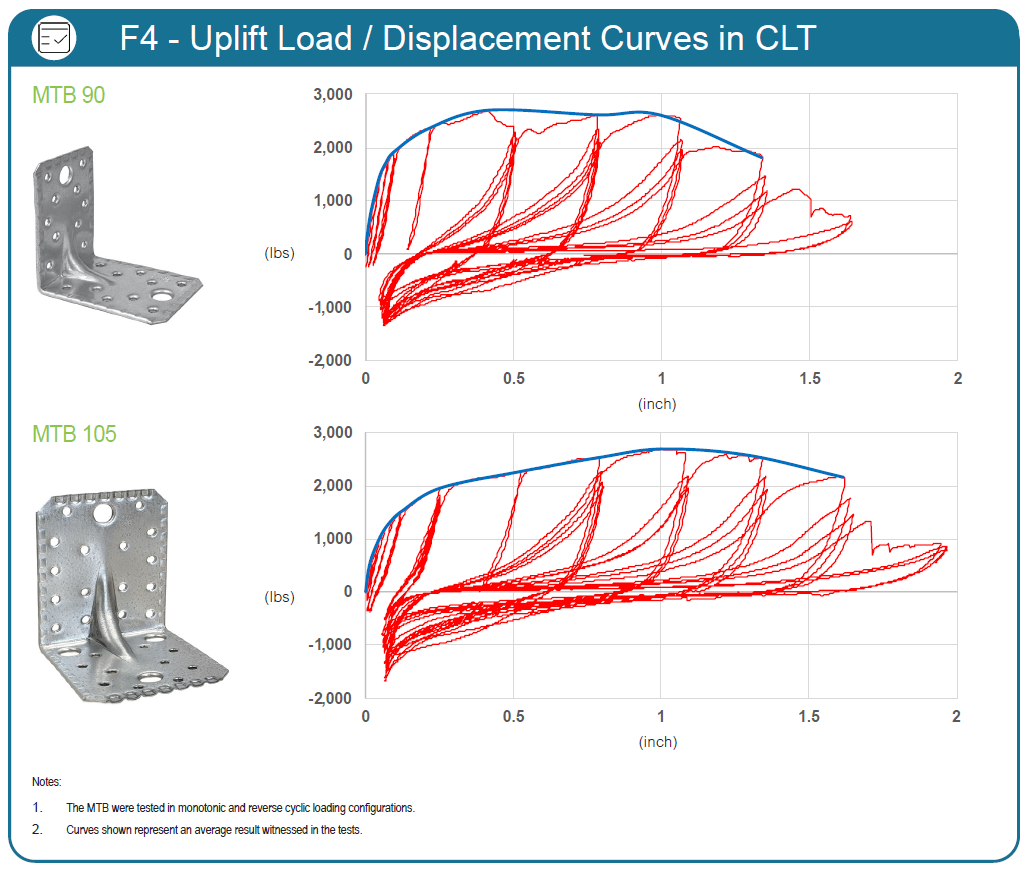 The witnessed failure modes varied depending on loading direction, however, ductile steel failure and ductile screw yielding were the prevalent failure modes observed. In load directions F1 Lateral and F3 Compression, steel yielding was recorded. In load directions, F2 Withdrawal and F4 Uplift, both screw withdrawal and steel yielding were observed. Throughout the testing, it was observed that the MTB 90 and the MTB 105 perform similarly in a variety of selected test setups. This is due to similarities in the design of each MTB with respect to hole patterns and the amount and location of fasteners in each leg.
To learn more about these brand-new systems, such as detailed capacities, system behaviors, or installation instructions, download now our new Connector Design Guide!
For any questions, contact our Technical Support Team 😉.