MTC Solutions' Fastener line is about to receive a band new ICC-approved family member, the ASSY VG Reverse Head [RH] screws! The ASSY VG RH are self-tapping wood screws engineered for large-scale wood reinforcement and they are already used in some of the largest reinforcement projects in North America.
Approximately 6-minute read.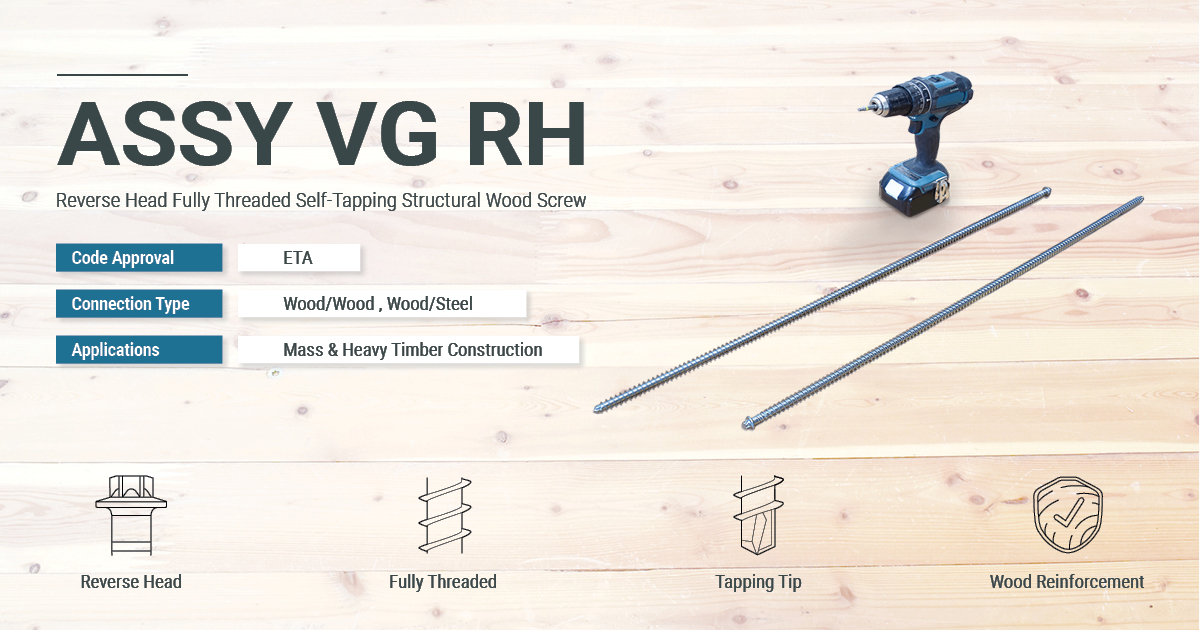 The VG RH screws are the longest self-tapping wood screw in the world, currently available in 9/16" [14 mm] diameter and lengths from 31-1/2" [800 mm] to 59" [1500 mm]. The VG RH screws are engineered to sustain high installation torques, even when installed without predrilling. With a relatively small head, they are easy to conceal in wood members, for a better architectural look and fire protection, when the holes are filled with wood plugs.
ASSY RH, Ongoing ICC Approval Process
The series of tests done in the ICC approval process includes withdrawal, tensile, shear, and bending yield strength testing. This series of tests was conducted in S.P.F. [Spruce-Pine-Fir], Douglas-Fir and Southern Yellow Pine wood species at the Advanced Structures and Composites Center of the University of Maine, to provide the necessary set of data for the North American mass timber industry.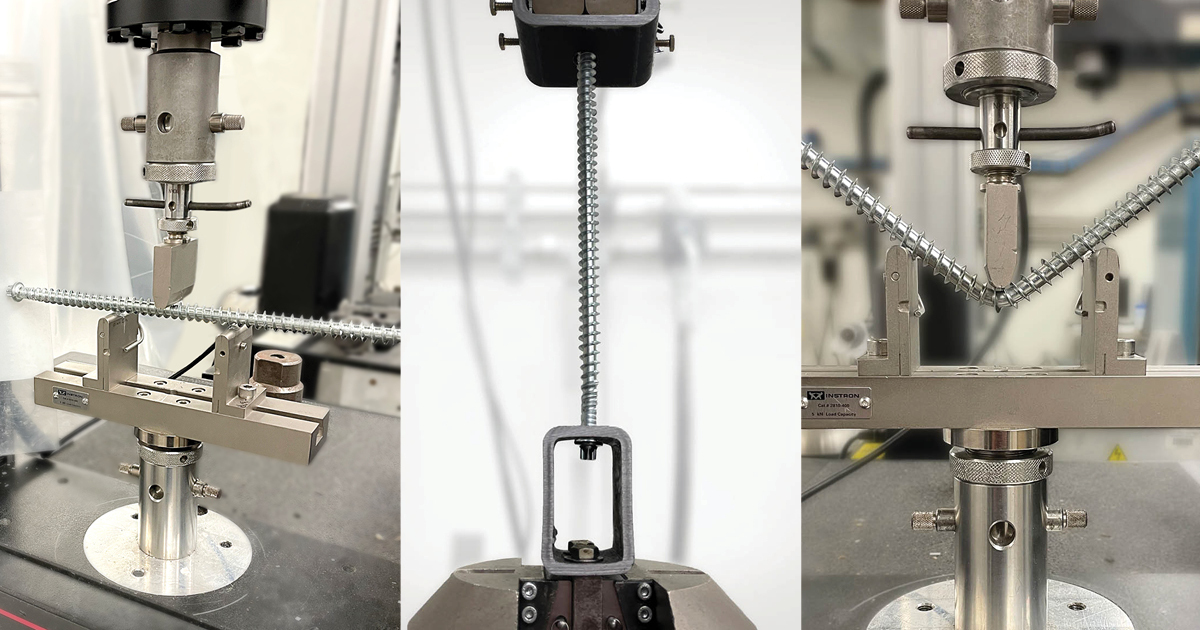 As an example, the graphics below present preliminary results for the withdrawal tests in 16D penetration in Douglas-Fir (D=outer thread diameter of the screw) and in tension. We estimate that in withdrawal the VG RH screws will have a 40% increase in design value compared to the 12mm VG CSK screws. We also estimate that in tension the VG RH screws will have a 77% increase in design value compared to the 12mm VG CSK screws. Which is great news for projects requiring long high capacity fully threaded screws.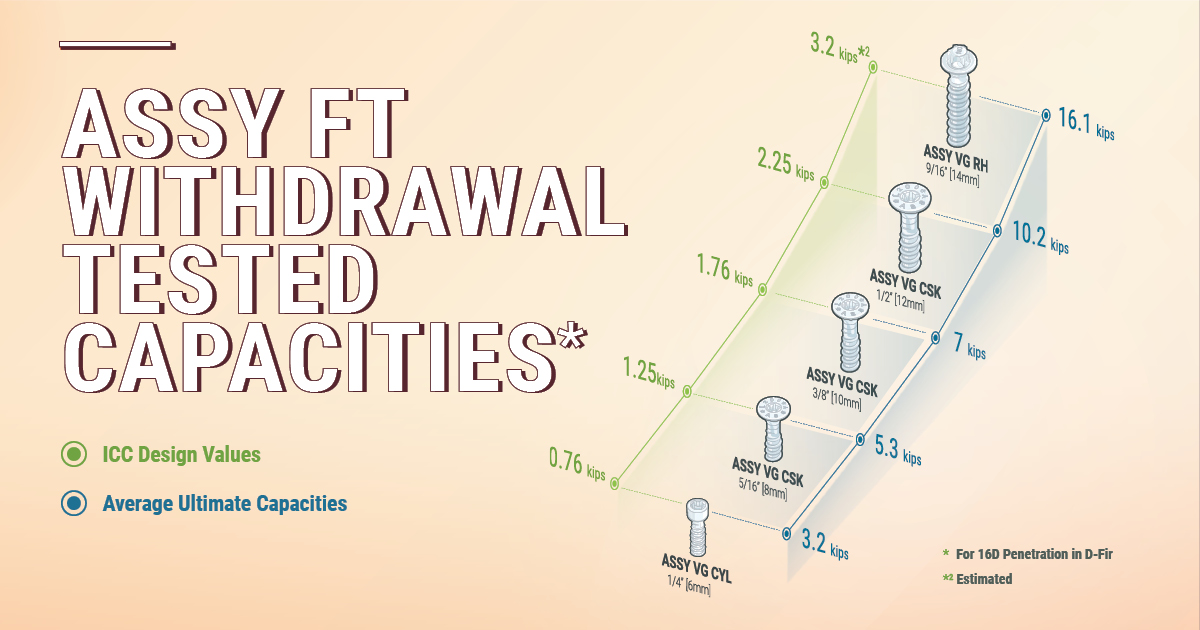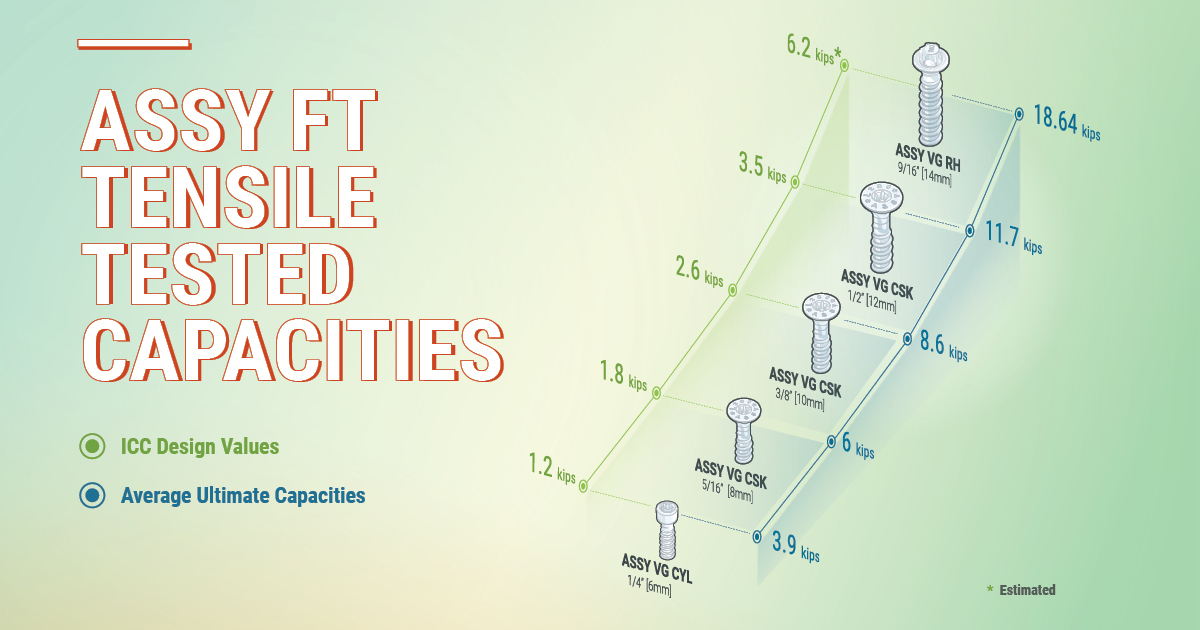 Stay tuned for further info 😉, and check out our website to learn more about all the ICC Code Approval ESR 3178 for Fully Threaded Fasteners available at MTC Solutions! You can also look at the VG Reverse Head [RH] fasteners page to learn more in-depth information on these unique self-tapping screws.