MTC Solutions offers a variety of sizes and shapes of self-tapping screws, both in partially threaded and fully threaded screw model. This blog post will cover the differences between both types of self-tapping screws, including some of their modern design features.
Approximately 6-minute read
Unlike traditional lag screws, the main feature of both screws is their self-tapping tip that does not require any pre-drilling prior to installation. This allows for easier onsite installation and more labour cost effectiveness.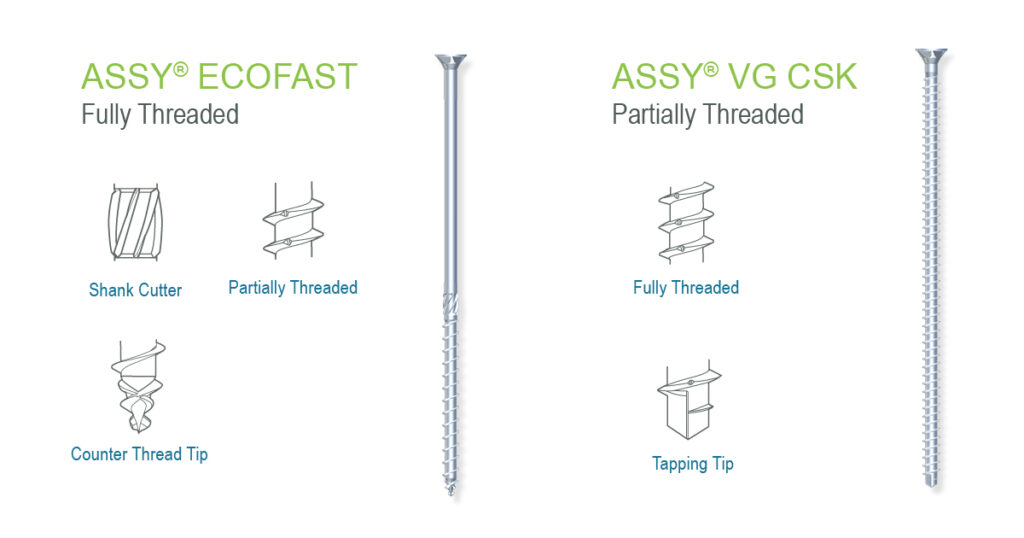 The partially threaded screw has a counter thread tip that cuts the wood and reduces wood splitting, and a shank cutter that reduces the torque required for the screw installation. The smooth shank of the partially threaded screw allows wood members to be pulled tightly together in high capacity shear connections, such as CLT lap joints and panel-to-beam connections.
The fully threaded screw has a more specialized tapping tip that mimics the shape of a drill bit. This tip is required since the fully threaded screw does not have a shank cutter or a smooth shank.  The self-tapping tip reduces the risk of the wood member splitting and drills the right diameter hole for maximum withdrawal capacity. Fully threaded screws are used to keep members tightly together and can be used for retrofitting applications. They can also be used in axially loaded connections to engage their high capacity withdrawal resistance. This allows for stiffer and higher capacity connections that cannot be achieved with typical lag screws. Applications where fully threaded screws can be used include reinforcing checked or split members, hold-down connections and uplift resistance systems.
Both partially threaded and fully threaded self-tapping screws can utilize several different head shapes depending on the connection application.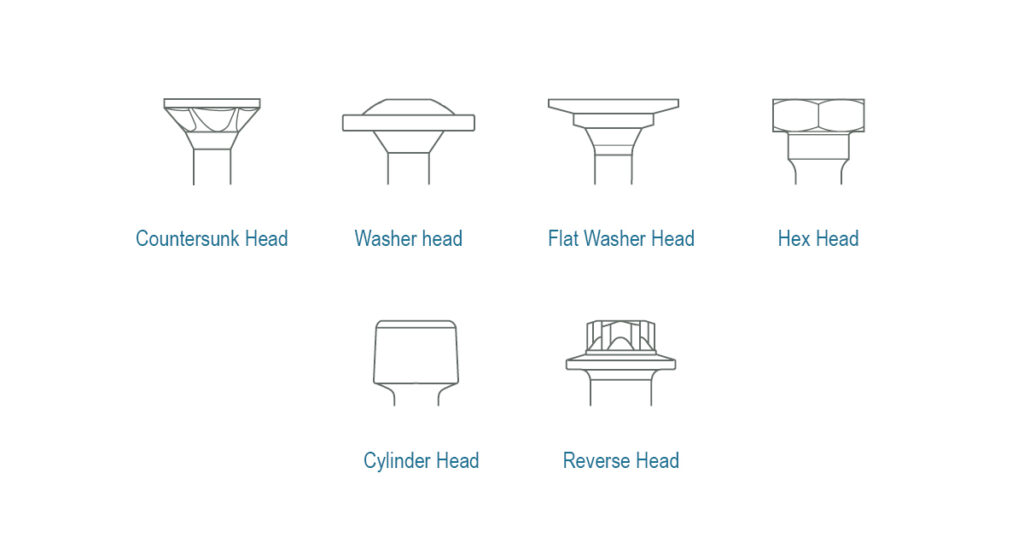 As an example, the countersunk head shape is most common and versatile and can be used in both wood-to-wood and steel-to-wood connections. The countersunk head can also be used with MTC Solutions 90° or 45° wedge washers for efficient steel-to-wood connections. Other screw head types include the SK washer head and the Kombi hexagonal head.
For more information on the capacity and installation requirements of partially threaded and fully threaded self-tapping screws, please refer to our Structural Screw Catalog