After much thought and prototyping, our Research & Development Team is excited to announce the release of MTC's latest product in our accessories line up: the MTC Pre-Drilling Jigs! Our new Jigs are an all-in-one solution—designed for the North American market—that we are sure will impress even the most discerning of installers. 😉 This blog post provides a concise overview of all the features and values they offer to the mass timber industry.
Approximately 9-min read.
Why a New Pre-Drilling Jig?
As the uptake of mass timber projects continues to ramp up throughout North America, the main players in the industry continue to increase design and construction competitiveness. With that, conservatism in design is increasingly being scrutinized as sustainable practices continue to become a higher priority and efforts are made to effectively manage and minimize the consumption of our wood fibre supply. What follows is an inevitable and natural trend towards challenging the boundaries of acceptable practice to improve efficiencies, increasingly driving decisions made by all parties throughout all phases of the lifecycle of these projects.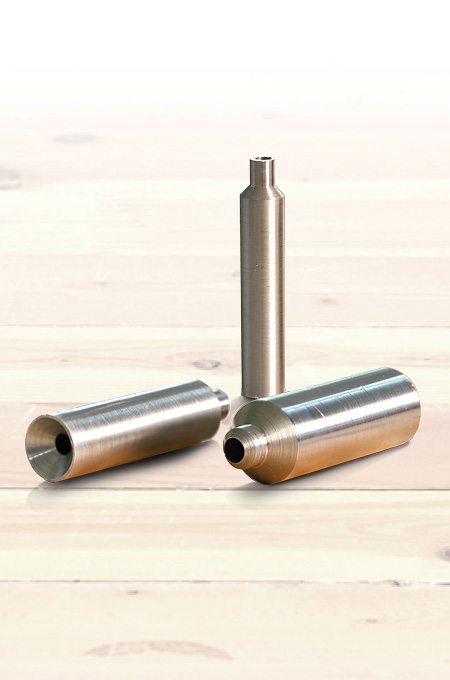 One such topic that MTC collaborators often inquire about (and, at times, challenge) is the strict need for pre-drilling for the installation of structural self-tapping screws, as well as the various benefits and contributing factors involved. While the industry is generally in agreement that pre-drilling is effective, it demands an investment of preparation, time, and labour. Based on past experience, it remains clear that the practice not only facilitates a more streamlined installation but also consistently achieves a higher quality and degree of conformance to the design intent. This reduces the frequency of (and implications associated with) corrective action to address installation issues or non-conformance, offering substantial value to both mass timber projects and the industry as a whole.

Our MTC Pre-Drilling Jigs serve as our latest attempt to make pre-drilling a more viable process to encourage more consistent and high-quality structural fastener installations.
The Key Features
Our MTC Pre-Drilling Jigs are compatible with the ASSY VG CSK 5/16" [8 mm], 3/8" [10 mm] and 1/2″ [12 mm] diameters and were designed to accommodate standard tools used in North America for pre-drilling. The inner diameters [ d ] accommodate the most common imperial and metric diameters for drill bits: 3/16″ [5 mm],  1/4″ [6 mm], and 9/32″ [7 mm], respectively.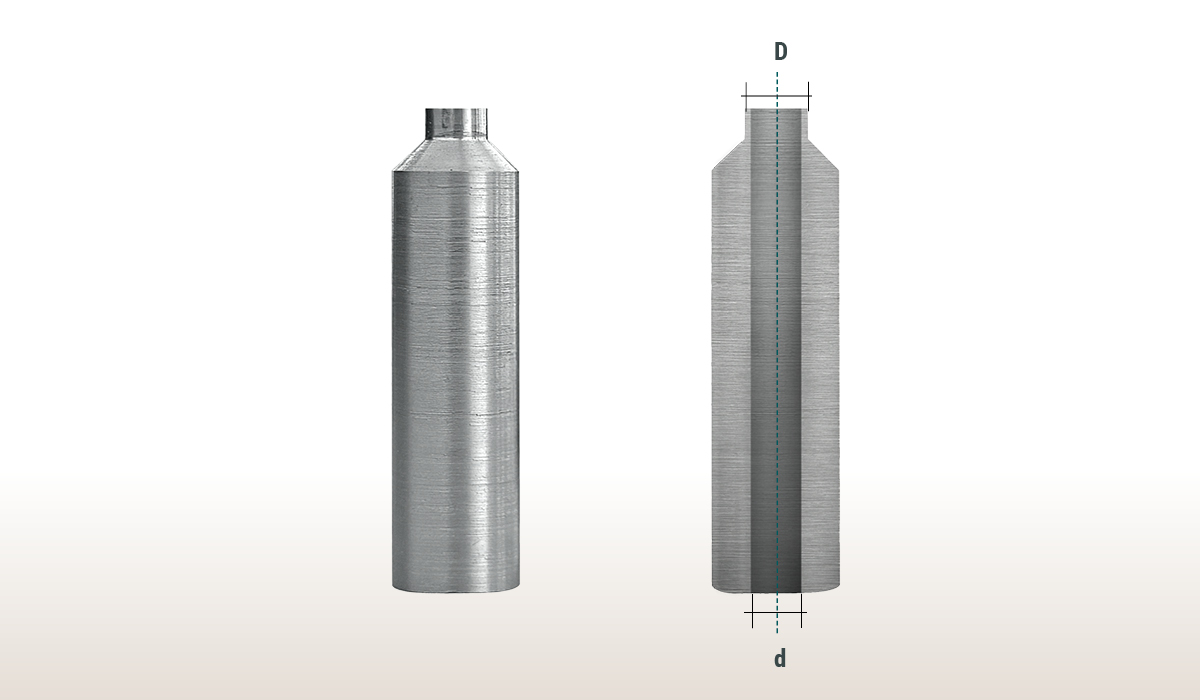 Additionally, the shoulder geometries and outer tip diameters [ D ] mirror the ASSY VG CSK's head, a fastener type used in a wide variety of configurations. This means that our Jigs not only assist with pre-drilling for our MEGANT series and RICON XL beam hanger assemblies, but also for custom steel-to-wood assemblies incorporating ASSY VG CSK fasteners. These assemblies can either be detailed with machined holes (of the correct geometry accounting for coating thickness as required) or detailed to accommodate our 90⁰ Cup Washers or 45⁰ Wedge Washers. Further, the tip lengths of the Jigs were fine-tuned to accommodate standard minimum thickness requirements without bottoming out and contacting the wood surface beneath. Stay tuned for a future blog post offering a deep dive into various details and considerations regarding custom fabrications and assemblies.
In summary, we've got your bases covered for the following applications: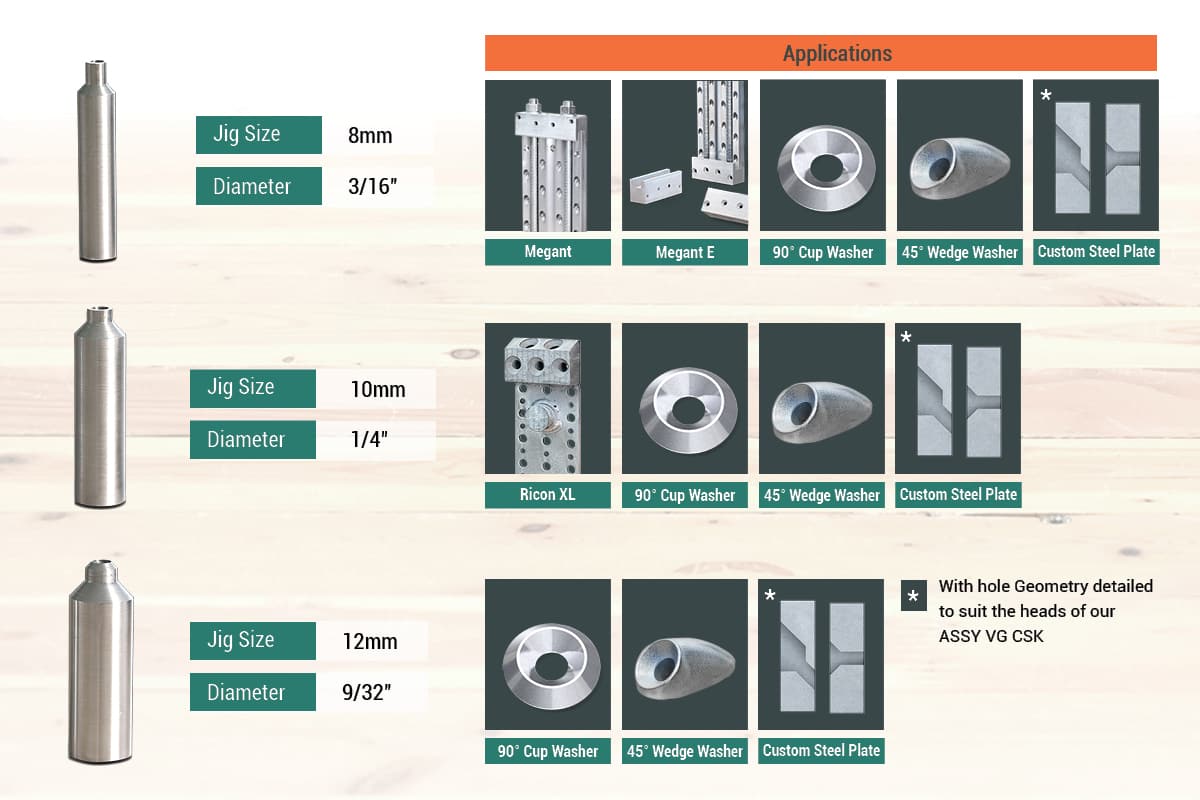 With that specific geometry at the shoulders and tips, our Jigs readily mate with their receiving surfaces, automatically and precisely setting both the pre-drill location and alignment relative to the target. As the inner diameter is also sized to suit our recommended drill bit diameters for pre-drilling, other bits that are too large and would reduce the screw's withdrawal capacity are automatically blocked from insertion into the Jigs, offering a quick check during use to confirm the correct bit size.
Ensuring confidence in the install configuration means improved efficiency and fewer errors, resulting in less labour and an improved appetite for pre-drilling.
Along with the above geometry, our Jigs have been machined to a tight tolerance that ensures a snug fit in the receiving hole, yielding precise and consistent pre-drilling and fastener installations.

The overall lengths of our Jigs have been fine-tuned to be long enough to offer precise alignment during pre-drilling but as short as possible to minimize weight and maximize how much drill bit length remains available for pre-drilling to depth.
Turned from the versatile AISI 4140 Alloy steel for enhanced toughness, abrasion resistance, and corrosion resistance, our new Jigs are inherently robust, durable, and ready to join you on whatever jobsite you find yourself on.
Why Pre-Drilling?
In short, the process of pre-drilling, either for pilot holes or to depth, improves the overall quality of fastener installation, protects the various structural components involved (e.g. reduces wood splitting) so that they can serve their purpose in service, and reduces wear and tear during install to improve the longevity of your crew and tools. For a deeper dive into the benefits that this process offers as well as the specific conditions in which it is recommended or required for fastener installation, check out our following blog post: Tips & Tricks: What Are the Benefits of Pre-Drilling?
Custom Pre-Drilling Solutions
If you have been following for some time, you know that the MTC team strives to empower the mass timber industry with the products, tools, and knowledge needed to push the industry to the next level and to continue bringing high-quality projects to fruition.  In that effort, not only do we look to bring you updates in our line of products, the latest in research, and details illustrating current best practice, we also want to provide you with the resources that will equip you for success in this industry. We strongly feel that any opportunity we can take to remove barriers and maximize how far this effort can reach are worthwhile and are therefore fully supportive of custom / creatively improvised solutions that effectively yield consistent and compliant end results.
We have previously released various resources to assist with the installation of our products on site, such as our post on Tips & Tricks: Build Your Own Installation Jigs for 45⁰ and 90⁰ Structural Fasteners. In a similar vein and in an effort to maximize the exposure and impact of our Jigs on the quality of structural fastener installation, we have made the shop drawings for these new Pre-drilling Jigs readily available. If you have the means to do so or would prefer to seek it out at your convenience, we encourage you to have our Jigs fabricated for yourself and your crew. Files are downloadable here.
The MTC Solutions team truly feels that the entire industry stands to benefit from a more efficient and effective fastener installation process. Our development and release of this line of Jigs is our latest effort to make pre-drilling a more viable part of that workflow. Stay tuned for further developments involving refinements to our pre-drilling recommendations following an upcoming testing campaign.
For more guidance on how to install our structural fasteners, refer to Appendix A of our Structural Screw Catalogue.
For any questions, contact our Sales Support Team 😉