MTC Solutions rigging systems are innovative devices, developed to accelerate the rigging time of  mass timber elements while maintaining on-site safety. These lab-tested systems use high-quality  code-approved ASSY self-tapping wood screws.
Approximately 8-minute reading time.
MTC Solutions rigging systems comply with OH&S-15, RSST-S2.1 and IHSA regulations in Canada and OSHA regulations in the US on safety standards for hoisting/rigging products and feature proper factors of safety for system capacities. They have been used in many prominent mass timber projects across North America including the world's first tall mass timber hybrid building, the Brock Commons Tall Wood Building.

The MTC Solutions Rigging Systems
MTC Solutions supplies 5 different anchoring systems engineered and tested for several scales of rigging needs. The Transport Anchor Mini Yoke, Yoke 1T, Yoke 5T Yoke XL are suitable for light, medium and heavy rigging duty of timber elements respectively. To attach the anchor to the timber element, easy-to-install ASSY self-tapping screws are used with various diameters and lengths which depends on the lifted element's weight and thickness. The screws allow for fast and efficient rigging on-site as well as improved site workflow.

The Transport Anchor is installed on the element by engaging the throat of the anchor on a ½" fully threaded Kombi screw head that is sitting proud on the element surface. Because of the throat design, engaging the anchor on the screw head is quick and simple on-site. The screw can be installed on the element surface with a circular housing to remain in place after the lift.
The Mini Yoke features smaller screw sizes and a unique screw pattern designed for placement on flange sections of wooden I-joist panels. From testing, it was observed that the smaller screws reduce the risk of delaminating the OSB panels from the wooden flange in prefabricated I-joist floor elements.
The Yoke XL is a versatile anchoring system capable of using 4, 8 or 12 screw patterns for lifting various panel weights. This can greatly assist on projects where a large variety of wood elements are lifted. In addition, the narrow width of the Yoke XL anchor allows for tilting and lifting of wall panels on the panel's narrow edge with reduced risk of splitting.

What Can They Lift?
The list of heavy timber elements that MTC Solutions rigging systems can lift includes but is not limited to:
Cross Laminated Timber (CLT) floor/roof and wall panels
Mass Plywood Panel (MPP) floor/roof and wall panels
Glulam beams
Logs
Glue Laminated Timber (GLT) floor/roof panels
Nail Laminated Timber (NLT) floor/roof panels
Dowel Laminated Timber (DLT) floor/roof panels
Prefabricated light frame I-joist floor elements
Prefabricated light frame walls
GLT, NLT and DLT panels, like CLT panels are prefabricated mass timber structural panels and are built with stacked dimensional lumber pieces in one direction using glue, nails, or dowels. Given the single ply orientation of GLT, NLT and DLT panels, it is recommended to rig these panels using the Yoke XL with 12 fasteners. Additionally, the Yoke XL should be placed at an angle to the ply orientation, with the appropriate self-tapping screw length to ensure an optimized wood engagement during panel lifting.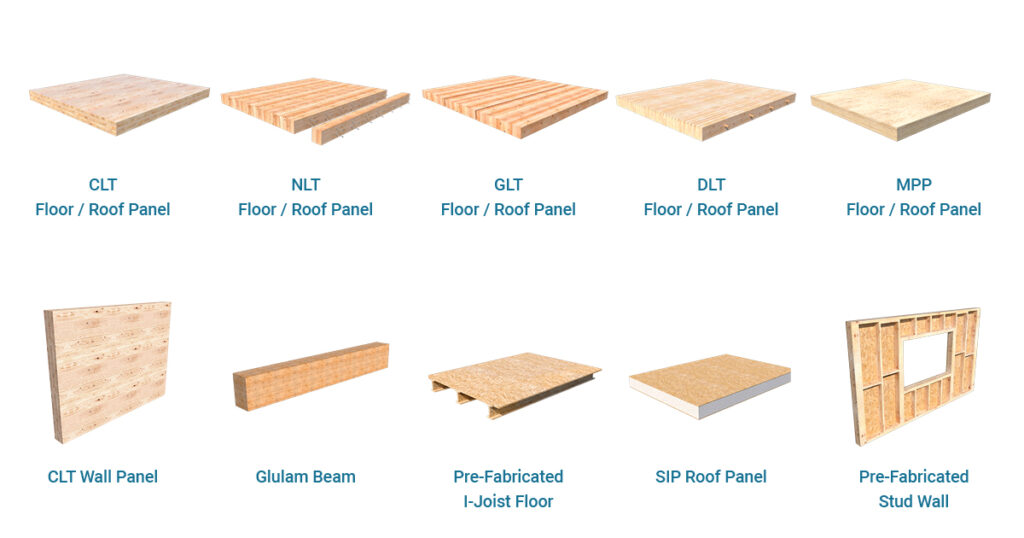 Cost-Efficiency
For a fast and efficient workflow on-site, it is recommended to use four sets of rigging hardware to create an optimal circular workflow and to reduce on-site delays. Though self-tapping screws may not be reused after rigging, MTC Solutions rigging anchors may be used to lift timber elements over multiple different construction projects. In combination with a well-designed truckload material sequencing, MTC Solutions' anchoring systems can assist in reducing the total project rigging cost.

Design Example
To assist with rigging projects, the MTC Solutions Rigging Design Guide provides complete information on MTC's rigging systems and details how they may be used with simple design tables.
Let us assume a designer is working on a rigging plan to lift a series of 3500 lbs SPF CLT roof panels with a 4-1/8" (105mm) thickness. The rigging is planned in an open space with a mobile crane. We can assume proper load spreading and a sling angle of 60° degrees to the panel.
1) The first step before rigging any timber element is to determine the total factored load that must be lifted. Proper safety factors must be used, including Kos and Kv that account respectively for the rigging situation (in open or tight space) and the dynamic acceleration of the elements being lifted. Note that the design values in the Canada and USA Rigging Design Guide reflect the proper safety factors in accordance with the respective design codes, therefore the proper design guide corresponding to the jurisdiction of the rigging project must be used.
2) The second step consists of selecting the model and quantity of anchors needed. For rigging horizontally oriented CLT panels, it is recommended to use a 4-point lifting design to ensure proper panel stability during the lift. To find the capacity required for each individual anchor we can simply divide the total factored weight by four.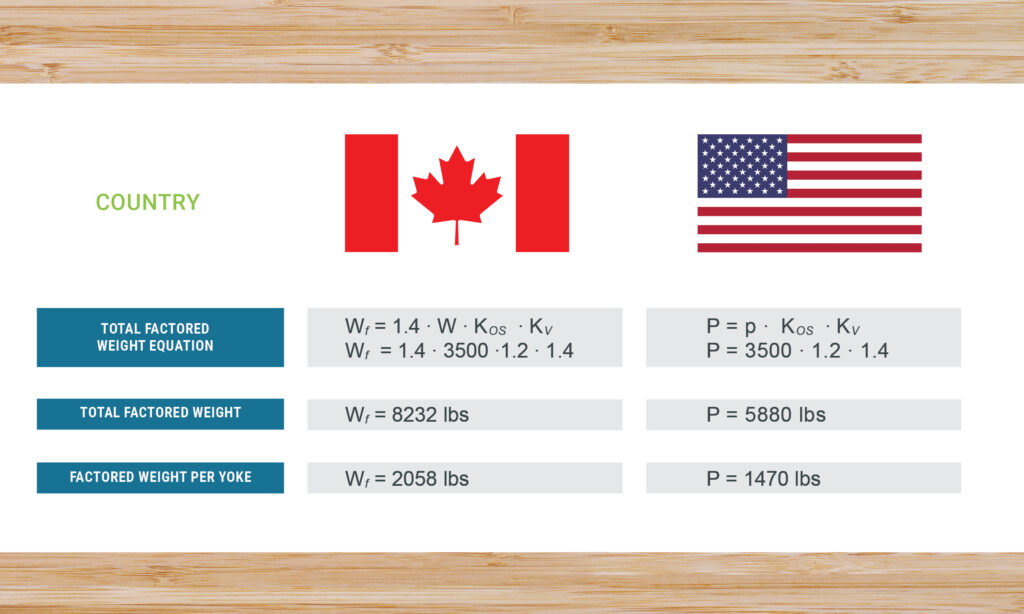 *All notes to the designer and all requirements from the Rigging Design Guide must be checked and met.
3) The final step consists of selecting the appropriate type and quantity of fasteners to use with the Yoke anchor selected to lift the panel. The goal is to ensure sufficient wood engagement by the threads of the screws. In our case, working with a 4-1/8" [105mm] 3-ply panel, a screw length of 4" [100mm] is suggested. Note that the relative density [specific gravity] of the mass timber element lifted must be taken into consideration as it will affect the anchor connection capacity.
Based on the Yoke 5T anchor selection tables from the Rigging Design Guide, using 4 pieces of Yoke 5T with 4pcs ASSY Kombi 1/4" x 4" screws per Yoke will work for this rigging example.
As seen in the design example, MTC Solutions rigging anchors configurations and selection process combined with a fast and simple installation using self-tapping screws, offers one of the most efficient rigging systems on the market.