MTC Solutions fully threaded, and partially threaded self-tapping screws require adapted equipment for a safe, efficient, and accurate installation. This blog post provides tool recommendations, as well as detailed steps to follow for an optimized installation.
Approximately 7-minute read.
Equipment
The first key component to achieve a proper installation of the ICC-ESR-approved MTC fasteners is to have the right equipment.
The Bits
Installation of MTC fasteners require typical bits & accessories, most common of which are the patented RW bits and the AW bits. The new RW bits are designed for the partially threaded 4.0 series & fully threaded fasteners series, existing in three different models:
The RW30, for the VG CYL 1/4" [6mm] diameters
The RW40, for the partially threaded Ecofast, Kombi, SK, & F.W.H. 1/4" [6mm], 5/16" [8mm], & 3/8" [10mm] diameters & for the fully threaded VG CSK & VG CYL 5/16" [8mm] diameters
The optimized fit of the RW bits allows a deep-seated fit into the screw drive, generating a better torque transfer, easing the installation. This feature supports an efficient installation, especially with large quantities of fasteners, with each one being installed slightly faster.
The AW bits are them designed for the installation of the partially threaded 3.0 series and stainless steel [A2] fasteners series,
The AW30, for the 1/4" [6mm] diameter fasteners
The AW40, for the 5/16" [8mm] & 3/8" [10mm] diameter fasteners of most types
Installation of the long (up to 59" length) 9/16" [14mm] diameter VG RH reinforcing fasteners requires the use of the high torque transmitting  reverse head socket adaptor accessory.
The Power Tools
It is critical to select the appropriate drill based on which fasteners are to be installed. Factors such as fastener length, fastener diameter, installation quantity, specific gravity of the timbers you are installing into as well as materials installed onto, such as steel or aluminum should be considered.
Installing small quantities of 1/4" [6mm] or 5/16" [8mm] diameter fasteners require less torque and can use a battery-powered drill in most cases. When installing larger quantities and/or fasteners with larger diameters, such as 3/8" [10mm], 1/2" [12mm] & 9/16" [14mm], a double handled corded drill might be necessary to withstanding the high torque required, while ensuring a one-run installation of the fastener.
A drill guide can be mounted to install long fasteners and ensure a specification conform installation while remaining within the tolerance boundaries specified. It is recommended to use a high torque low rpm drill with torque-control setting. Manual torque setting with torque wrenches is also a viable option if specifications call for this measure. Torque recommendations can be considered as outlined below however always follow the specification outlined by the registered and licensed design professional you are working with.
1/4" [6mm] = 5.9 ft.lbs
5/16" [8mm] = 13.5 ft.lbs
3/8" [10mm] = 26.5 ft.lbs
1/2" [12mm] = 38.5 ft.lbs [for partially threaded fasteners]
1/2" [12mm] = 44.2 ft.lbs [for fully threaded fasteners]
9/16" [14mm] = 67.8 ft.lbs
The use of impact drills is not recommended when installing self tapping screws. The constant impact to the screw through the stopping and starting action of the impact drill is assumed to potentially cause metal fatigue and therefore causes possible strength reduction.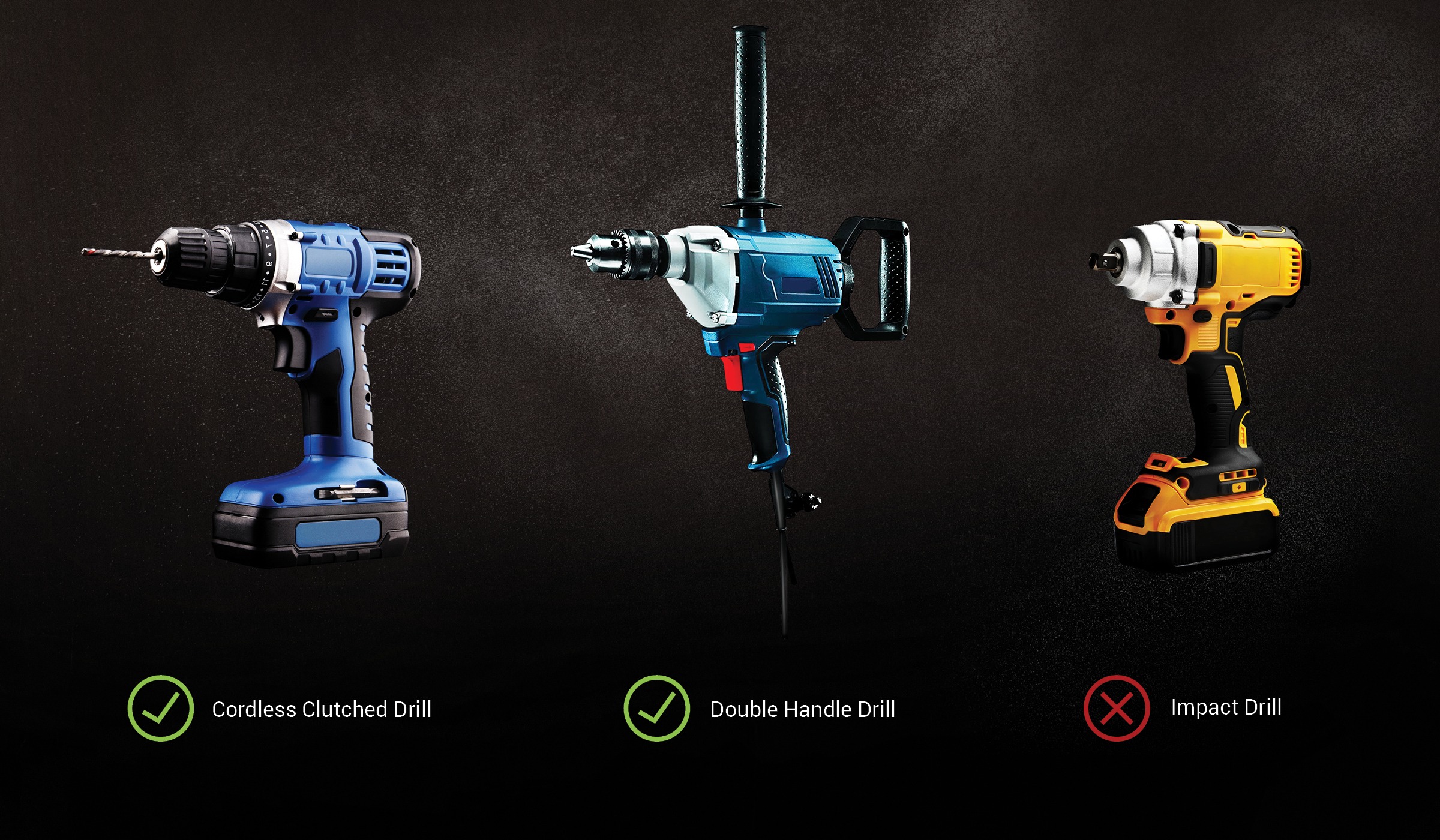 Preparation
Before driving the fasteners, you might consider using pilot holes or predrilling. Examples includes, but are not limited to, installation in wood species, softwood and hardwoods with specific gravities exceeding 0.49 or in species more sensitive to splitting, installation with reduced spacing, end, & edge distances, or installation of fasteners with length exceeding 16" [400mm]. Other benefits of pilot holes & predrilling specifications are lower installation torque, less wear on tools and better installation precision. To learn more about it, read our tips & tricks blog post on the subject.
Installation
To optimize the installation of MTC self-tapping screws, here is a list of tips & guidelines to follow: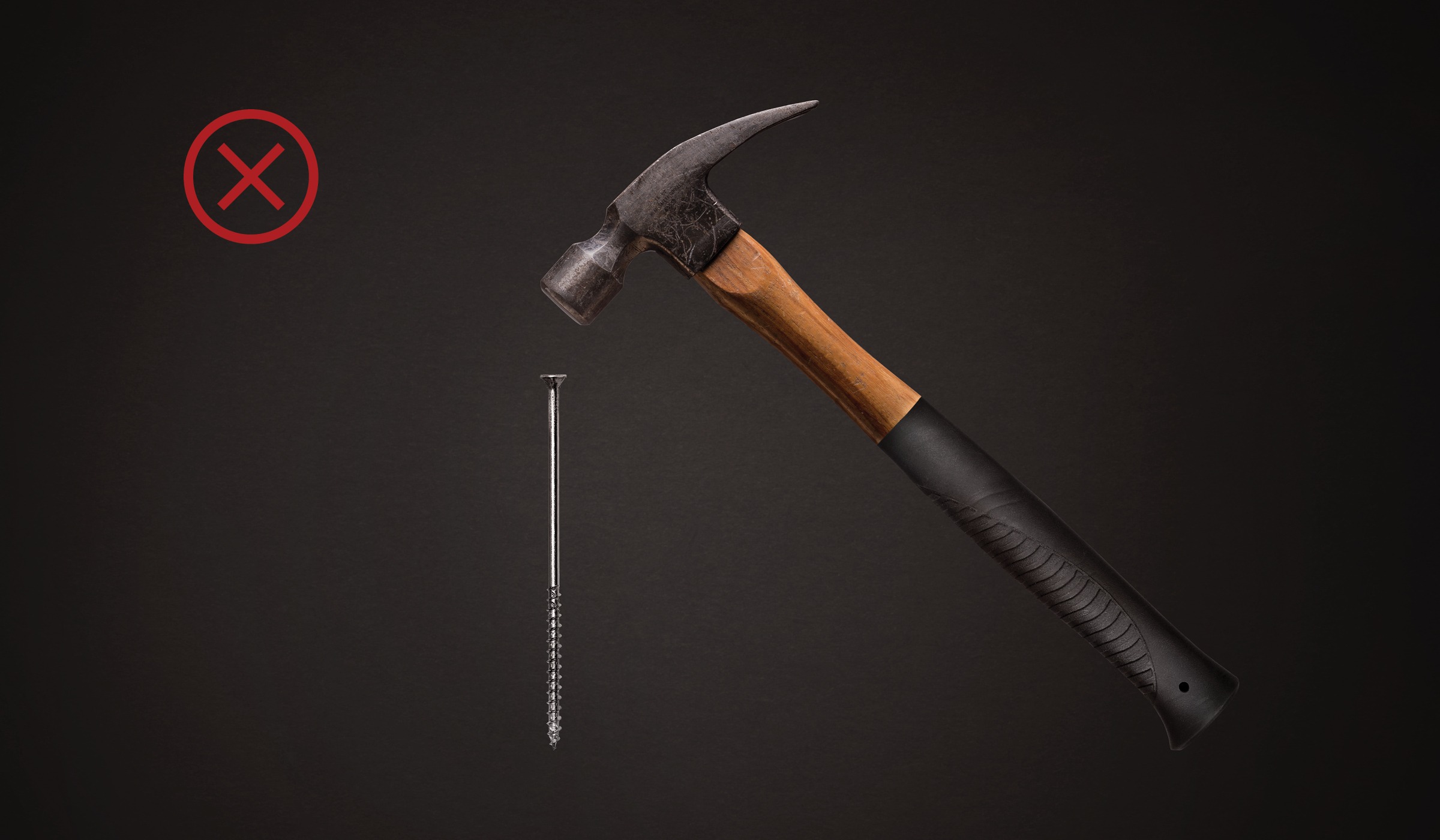 A predrilled hole might be required prior to installation. Drill along the desired angle of the fastener following pre-drilling recommendations from our design guide. Do not force the fasteners' position by using a hammer. It may damage them.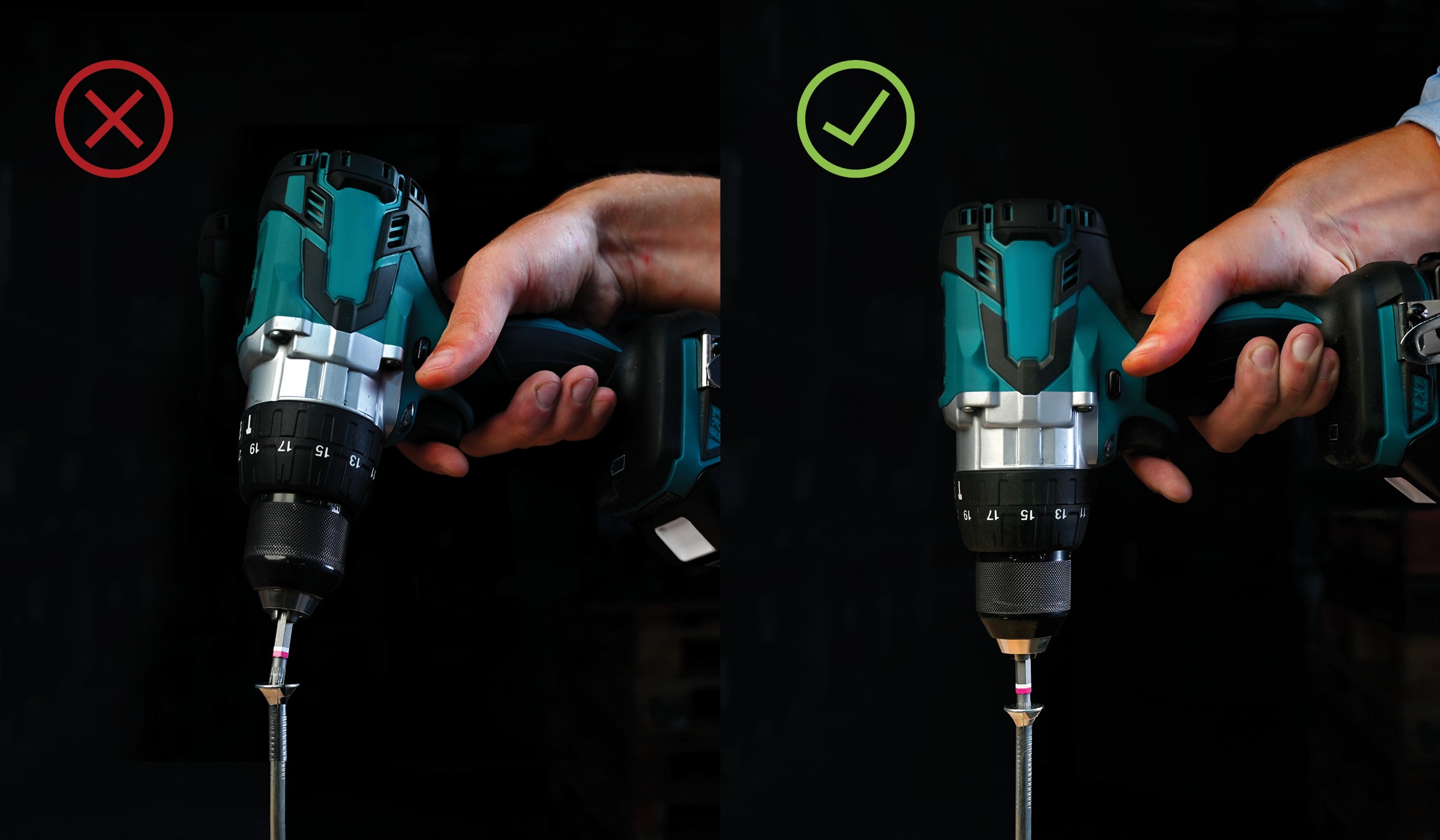 The AW & RW drive bits and drill must be parallel to the fastener axis during installation to avoid stripping the bit or bit seat assuring proper torque transmission.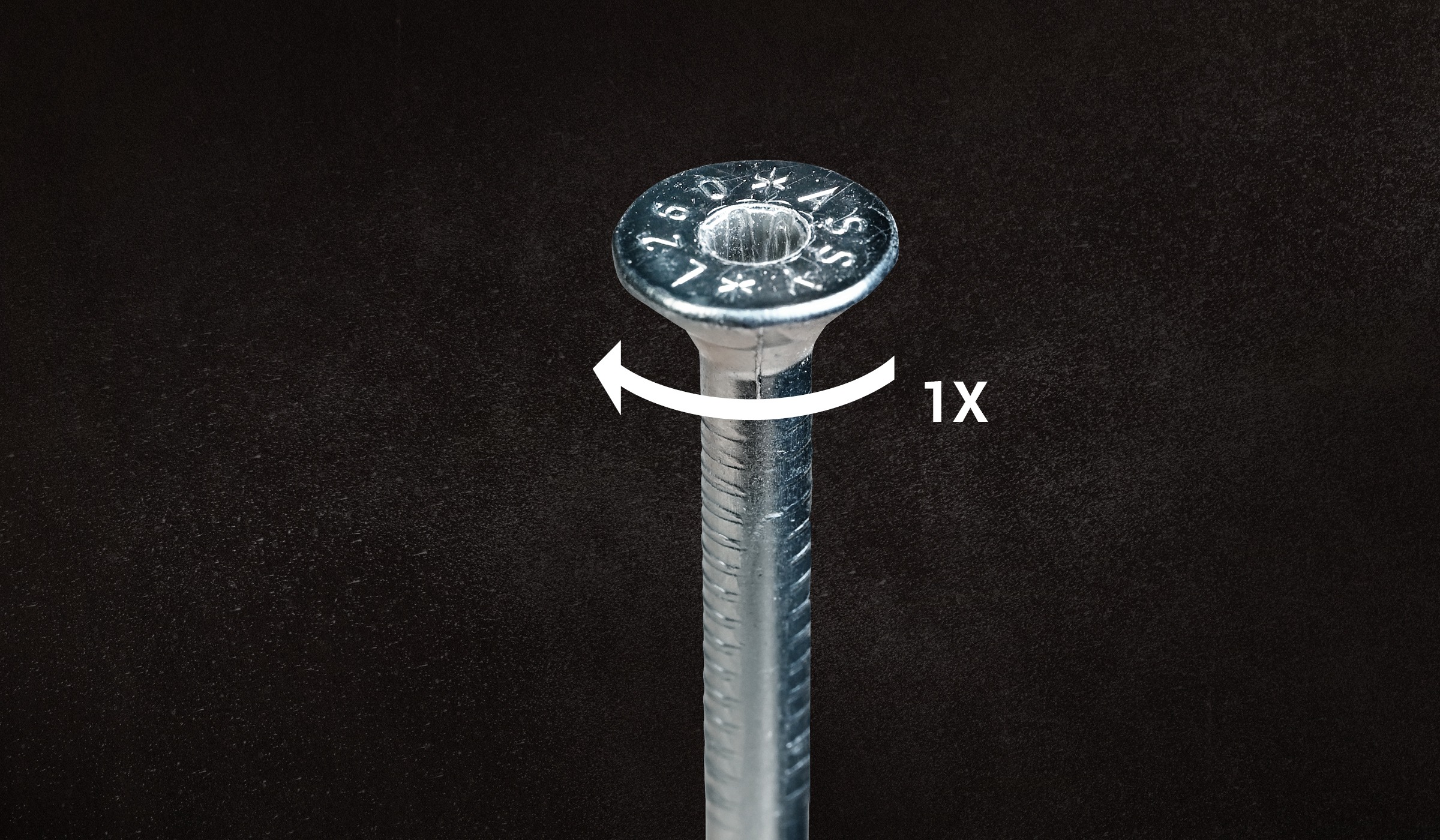 It is recommended to install MTC self-tapping screws in one continuous run. Restarting fasteners installation, especially long fully threaded ones, can be quite challenging and often yields difficulties.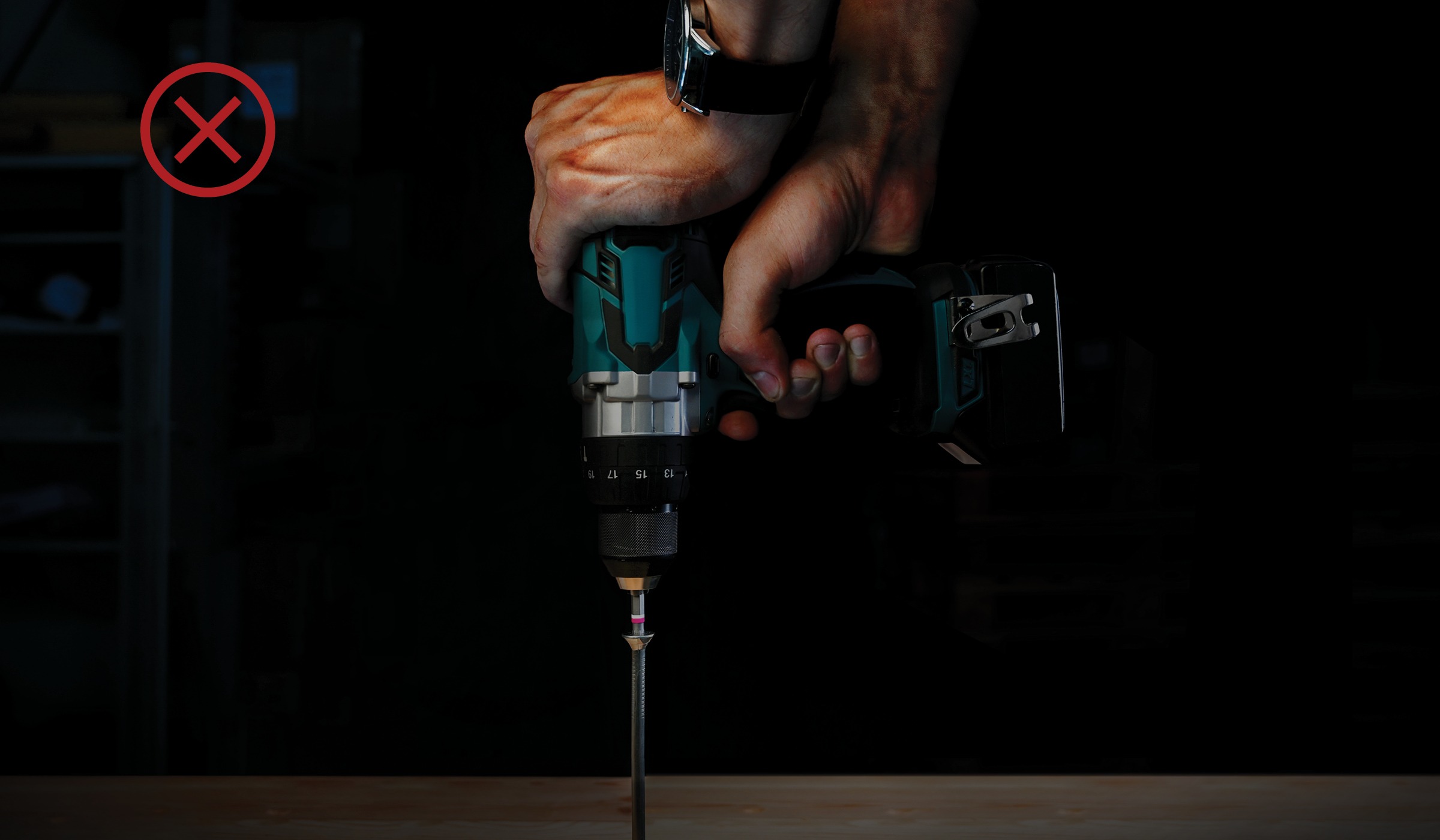 Once the fastener is engaged in the wood members, do not apply an excessive downward force on it as it may buckle slender fasteners during installation and alter their direction of installation.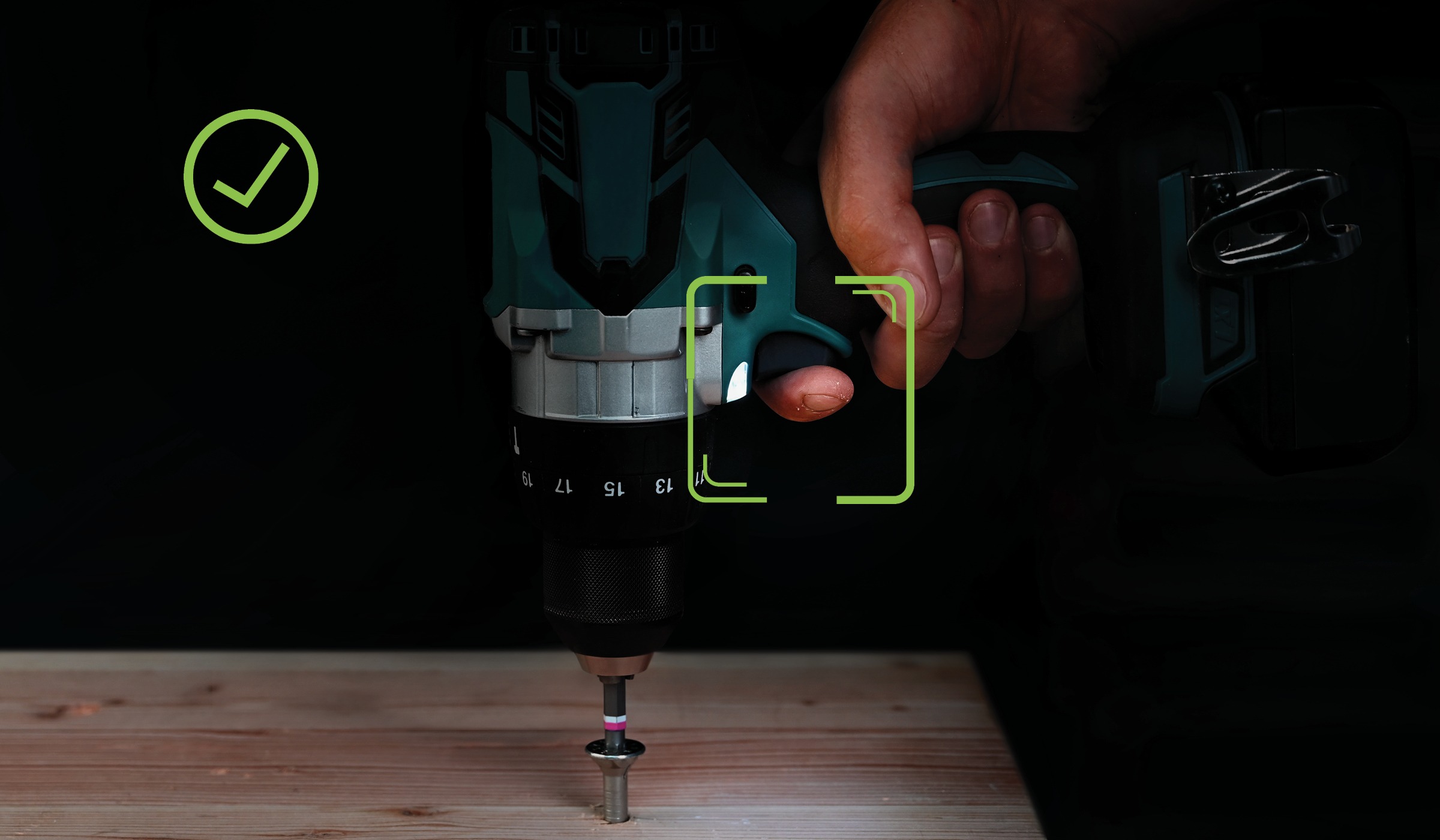 When completing the fastener installation, it is recommended to slow down the rotation speed of the drills once the fastener head is approximately 1" [25mm] from being seated. This will help avoid over-torquing the fastener.
If wood splitting is observed during or prior to installation, a qualified design professional must be contacted. Observed irregularities such as fastener damage or breakage must always be reported to a qualified design professional.
For more information on design properties of MTC Solutions fasteners, download our Structural Screw Catalog. Download our Structural Screw Connection Design Guide for engineering design values and specifications.
If you have any questions, contact our Technical Support Team 😉.